GAME PREVIEW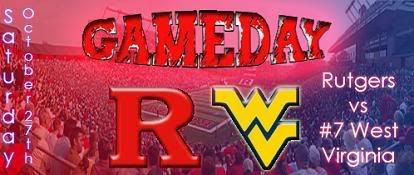 This week the #6 West Virginia Mountaineers travel to Rutgers Stadium for a much-anticipated showdown between two Big East rivals with B.C.S. Bowl implications in jeopardy for each team. The game will be covered on television on ABC with kickoff at 12:10 p.m. The game will be on radio stations WOR (AM-710), WCTC (AM-1450) and WENJ (AM-1450) and XM Radio channel 203. This game marks the first time in 138 years in Rutgers football history that the Scarlet Knights will face a team ranked in the top-10. Rutgers is coming off a thrilling victory over previously ranked #2 South Florida last Thursday at Rutgers Stadium. Since losing 2 heart-breaking games to Maryland and Cincinnati, the Scarlet Knights have bounced back with convincing victories at Syracuse and then versus the previously unbeaten Bulls. West Virginia is 6-1 this season, with their only loss coming against South Florida on September 28th. The Mountaineers are 1-1 in conference play, with their victory coming over Syracuse. Since the Greg Schiano era, Rutgers is 0-6 against the Mountaineers and has lost 12 straight games to West Virginia. Last year's game proved to be a thriller, as Rutgers dropped a 41-39 decision at West Virginia in Triple Overtime. This year's game brings similar implications, as Rutgers must win out their remaining schedule to have a chance to win their first ever Big East Conference championship and salvage the season. Greg Schiano reflects on his 0-6 record against the Mountaineers since he became the Scarlet Knights' head coach. "We haven't beaten them. That's just stating a fact. Last year I thought we played very well, we were just a couple plays short of winning. When you're playing at that level, it's a very fine line. I don't think we were playing with the same weapons in the early years. We have had opportunities to win later and we've found a way not to, so hopefully we can play our best and hopefully that will be good enough, but I don't know if it will."
Key Defensive Match-up: Rutgers defense vs. Pat White and Steve Slaton
Rutgers defense will be in a world of trouble come Saturday afternoon if they can't limit the dynamic QB Pat White and RB Steve Slaton. Slaton and White, two Pre-season Heisman trophy candidates, excel in an option offense that creates headaches for defensive coordinators. Last year, Rutgers did not play against White, who was nursing an injury during the Mountaineer's win. Slaton is second all-time in Big East history with 41 touchdowns and leads all active rushers. He is currently the second leading receiver on his team with 215 yards, however he is 300 yards shy of the mark of rushing yards he had accumulated at this point last season. Last year vs. Rutgers, Slaton ran for 112 yards, including a pair of 1-yard TD runs, and had three catches for 37 yards. Rutgers linebackers will have to play their A-Games to limit Pat White's scrambling ability and keeping Slaton from busting big runs into the Rutgers secondary. Rutgers must get into the backfield and create pressure for White and Slaton, as they did against South Florida last week sacking USF's quick Quarterback Matt Grothe seven times.
Key Offensive Match-up: Rutgers QB Mike Teel vs. his bruised hand
Ray Rice can bull into the opposing defense as hard as he can, but if Rutgers does not create balance on offense, they will not move the ball against a talented West Virginia defense. Mike Teel has been battling a deeply bruised throwing hand since the loss to Cincinnati and this will prove to be a deciding factor in Rutgers passing game. If Teel is unable to play, back-up QB Jabu Lovelace is ready, but he has only been used as a running QB this season. Teel is determined to play, but if he is not effective, look for Lovelace to come to the rescue. Teel needs to return to his past success that he enjoyed early this season if Rutgers wants to have a chance in this football game. Coach Schiano has been vague on Teel's condition as of Thursday, so we will see game time how he turns out.
Prediction
Rutgers wins a thrilling game on the banks. Rutgers is able to limit Pat White and Steve Slaton to a degree and Ray Rice carries the offense with a mixture of Mike Teel and Jabu Lovelace at Quarterback.
Rutgers 28 West Virginia 27