GAME PREVIEW
Rutgers at Army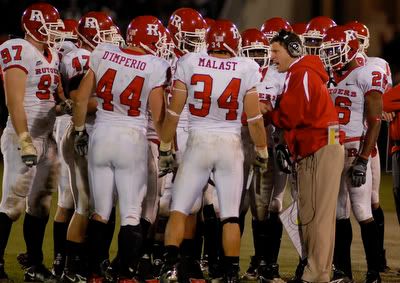 Friday evening, the Rutgers Scarlet Knights will travel to Michie Stadium in West Point, N.Y. to take on the Black Knights of Army. Kickoff time is set for 8:00 p.m. and the game will be televised nationally on ESPN2. Rutgers will be looking to bounce back once again this week after two disappointing losses to conference foes West Virginia and Connecticut. Rutgers comes into the game still looking for their 6th win to make them bowl-eligible. This will be the last out of conference game the Knights play in the 2007 regular season. Last week, Army (3-6) lost 30-10 to Air Force extending their losing streak to three straight games. However, Army has been undefeated at home this season, with wins over Rhode Island, Temple and Tulane. Army is certainly not a team to take lightly, as no team should be for the Scarlet Knights this season. Coach Schiano commented on the improved Army squad Rutgers faces Friday night. "Army definitely presents a challenge. They are an improved football team. They have won some tight games, you know they have won two overtime games. I think, as you watch their tape, you see them getting better. It's a new head coach, new coaching staff, some of the same, some new, you can see them getting more comfortable every week."
The game key to a Rutgers victory this week will need to be a combination of improved special teams play and defense. Last week, Rutgers rolled up 511 yards of total offense, yet were continuously hurt on special teams. The Scarlet Knights gave up a touchdown, had a punt blocked and started many of their offensive possessions inside the 20-yard line against the Huskies. Defensively, the Knights missed too many tackles and paid for their mistakes throughout the ball game. Coach Schiano spoke about the team's defensive play in the last 2 losing efforts. "We are just a little bit off. I have a feeling that's all going to get straightened out. We've just been a little bit off. It's not a single guy; otherwise you remedy that by making an adjustment on depth. I don't think it's a big schematic issue, although every game you come out saying I wish we had done this or I wish we had done that, really it's more just being a little bit off, different guys being a little bit off at different times. And when you're playing the best teams, being a little bit off can be exposed sometimes." Another x-factor will be how Rutgers plays in the red zone as they were held to 4 red zone field goals last weekend against the Huskies.
PREDICTION (Career Prediction Record 0-2)
Call me crazy, but I can't see the Scarlet Knights losing this game. At worst this game will be a close game for Rutgers. But then again, I have been wrong before.
RUTGERS 35-ARMY 17