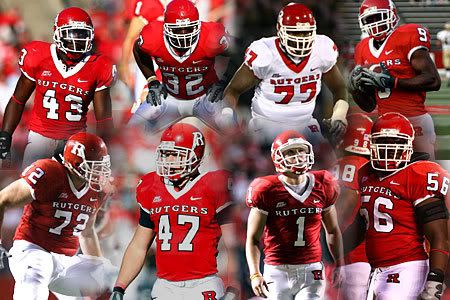 Saturday afternoon the Rutgers Scarlet Knights will take on the Pittsburgh Panthers in hopes of securing their 7th win of the season on Senior Day. This year, Rutgers will recognize 19 seniors-Robert Baham, Jean Beljour, Marcus Daniels, Gaudhi De Sedas, Mike Fladell, Eric Foster, Ron Girault, Nate Harris, Corey Hyman, Jeremy Ito, Kyle Kummer, Dimitri Linton, Chazz Lynn, Dan Mazan, Brandon Renkart, Chris Rudanovic, Pedro Sosa, James Townsend, Mike Ziarnowski and Jeremy Zuttah. So far this senior class has amassed 28 wins and trips to 2 bowl games. This senior class has the chance to be the first to lead Rutgers to 3 bowl games. As for the game, Rutgers will be facing a Pitt team that has recently turned the corner in order to try and salvage their season. Pitt is one of the 4 Big East teams still in contention to win the Big East, with a 4-5 overall record and 2-2 in conference mark. Rutgers is looking to set their Big East conference record to 3-3 for the season. The Scarlet Knights are coming off a win over Army last Friday in which they ran all over the Black Knights who ranked 109th nationally in run defense. Junior RB Ray Rice ran for a Rutgers single-game record of 243 yards and passed former Rutgers FB Brian Leonard for all purpose yards for his career. Rutgers will need another solid rushing performance from Rice to help keep the markers moving due to the fact that Mike Teel is still not 100%. However, Teel is feeling much better with the extra rest time he got after leaving the Army game after just 7 snaps. Pittsburgh is led by true freshman RB LeSean McCoy, who is second in the conference in rushing yards this season with over 1,000 yards. Pitt is also led at Quarterback by a true freshman named Pat Bostick. Rutgers will need to key in on getting pressure on Bostick and make the most of his inexperience so that they can focus in and shut down the Pitt running game. The Rutgers D-Line's play in this football game will be one of my keys of the game in deciding the final score. If Foster and the rest can get into the backfield, Rutgers will have a much easier time on defense. Offensively, the key will be how balanced the Rutgers offense can be against the Panthers. The Scarlet Knights will not have the same success running the ball if they do it as much as last week's game against Army. Rutgers will need to get a good passing game from Mike Teel and/or Jabu Lovelace.
PREDICTION--All-time record (1-2)
The trend of my picks may point to me being a "homer", yet I think that a pumped up Rutgers crowd and a fired up effort from the seniors will give the Scarlet Knights the win in the final home game of the 2007 season. Pittsburgh will not have enough options defensively to shut down Rutgers running attack, as long as Rutgers can mix in some good pass plays as well. Otherwise, this game could be close.
Rutgers 27 Pittsburgh 14